NOTICE: Worship services are canceled for Sabbath 2019-10-12 because of typhoon#19
Tokyo International SDA Church, or more commonly known as TIC, grew out of the need for foreign nationals in Tokyo to meet and worship in English over 20 years ago. The church has grown to support a weekly attendance of 150 people coming from diverse countries around the globe, such as the Philippines, USA, Ghana, and many more. We also have many Japanese members who like to be a part of our strong fellowship.
We are a spirited church which seeks to worship the Lord in holiness, and to reach out and share His word with other English speakers in Japan.
TIC has become known for being a sanctuary for Christ in the heart of a tourist and fashion district; a church on Church Ave juxtaposed next to modern shopping malls.
| | | |
| --- | --- | --- |
| Sabbath School | Saturdays 9:00 - 10:15 | Social Hall (1F) |
| Divine Service | Saturdays 10:30 - 12:00 | Social Hall (1F) |
| Prayer Meeting | Saturdays 13:15 - 13:45 | Seminar Room (B1) |
| English Bible Study | Saturdays 13:45 - 14:45 | Seminar Room (B1) |
| Tagalog Bible Study | Saturdays 13:45 - 14:45 | Foyer (B1) |
| Afternoon Program | Saturdays 15:00 - 16:00 | Seminar/Social Hall |
| Children's Afternoon Program | Saturdays 13:30 - 15:00 | Class Room (B1) |
| Midweek Connection | Wednesdays 19:00 - 20:00 | Class Room (B1) |
All services are in English unless otherwise specified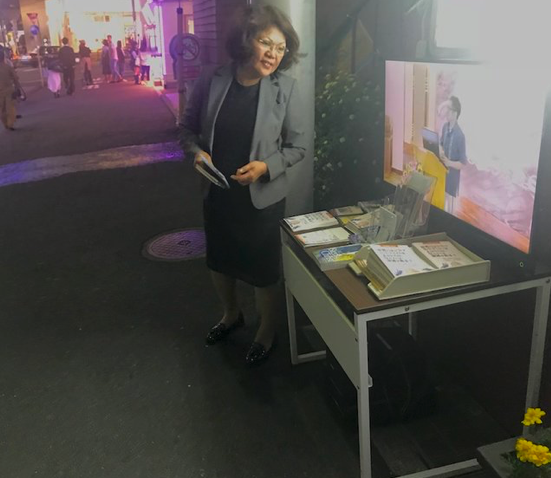 Hope in a time of Hopelessness
"The Holy Spirit is doing something extraordinary in Japan, bringing people to the church and convicting them," he said. "We need to pray for the latter rain of the Holy Spirit so countries like Japan and many others become completely inundated with the Advent message."
A little innovation by church members has also drawn visitors into evangelistic meetings. People have walked into Tokyo Central Seventh-day Adventist International Church after seeing a live-stream of the meetings on a street-side television outside the building.